The Webster Dictionary defines Renaissance Man as a person who is interested in and knows a lot about many things. A writer, composer, film director and most notably as a world renowned photographer, there is no question that Gordon Parks could easily fit that definition. And while the description is simple, Mr. Parks was deeply complex and a profoundly influential American artist whose work over the past 50 years has come to be seen as some of the most important photographic work of our time. He was deeply committed to the causes of social justice and equity having been born poor, in Kansas during the time of segregation and in his biographic information it is shared that he purchased himself a camera which he proceeded to teach himself how to use and would ultimately serve as a the tool that would give him the artistic voice of his generation. It was for these and many other reasons that Jennifer TumSuden and I decided we would organize a trip for Walnut Hill students to the MFA in Boston to see his collection of work on exhibit.
The WH Photography Club was helping to sponsor and organize the trip and our small group of nine students and three adults made our way into Boston on a glorious early September, Saturday afternoon. The Museum of Fine Arts in Boston is a superb resource and cultural destination. As the Head of an arts school, we find that it provides such an amazing opportunity to take our young artists, from any discipline into Boston to see some of the world's greatest art. The 30 minute drive was easy and carefree and with many of our students toting cameras in hand, upon arrival we set off to explore the work of Mr. Parks. The collection on exhibit focuses on photographs Mr. Parks took in Fort Scott, Kansas, his childhood home town. As one of the first African American photographers on staff with Life Magazine, he was sent to explore school segregation and what emerged was a series of photos thought to be lost. Never published by Life Magazine, the curators at the Gordon Parks Foundation came upon a box of negatives labeled "Segregation" and it was only after his death that the collection of work dating back to 1956 would finally be shared with the world.
My personal experience walking through the exhibit was that Mr. Parks had done something profoundly simple and yet artistically challenging. His photos were not staged and his ability to capture life as it unfolded, true, real and in the moment are what ultimately moves you as you experience each piece individually and the collection as a whole. In a 1982 interview for CBS Sunday Morning, a program I love to watch, Mr. Parks shared about the subjects he photographed that it was "Not as important what he is feeling in that moment, what matters is that I want to let the world know what they are feeling. What they are going through." It is clear that he was able to do that and so much more. I think our students came away with a deeper understanding of how art has the capacity to make the world a more mindful and tolerant place. The everyday lives of black families in Fort Scott, Kansas back in 1956 is generations away from the realities of students today, and yet we have so much we can learn about what challenges our society, about how far we have come and how far we have yet to go. These moments captured life before the Civil Rights movement had even officially begun.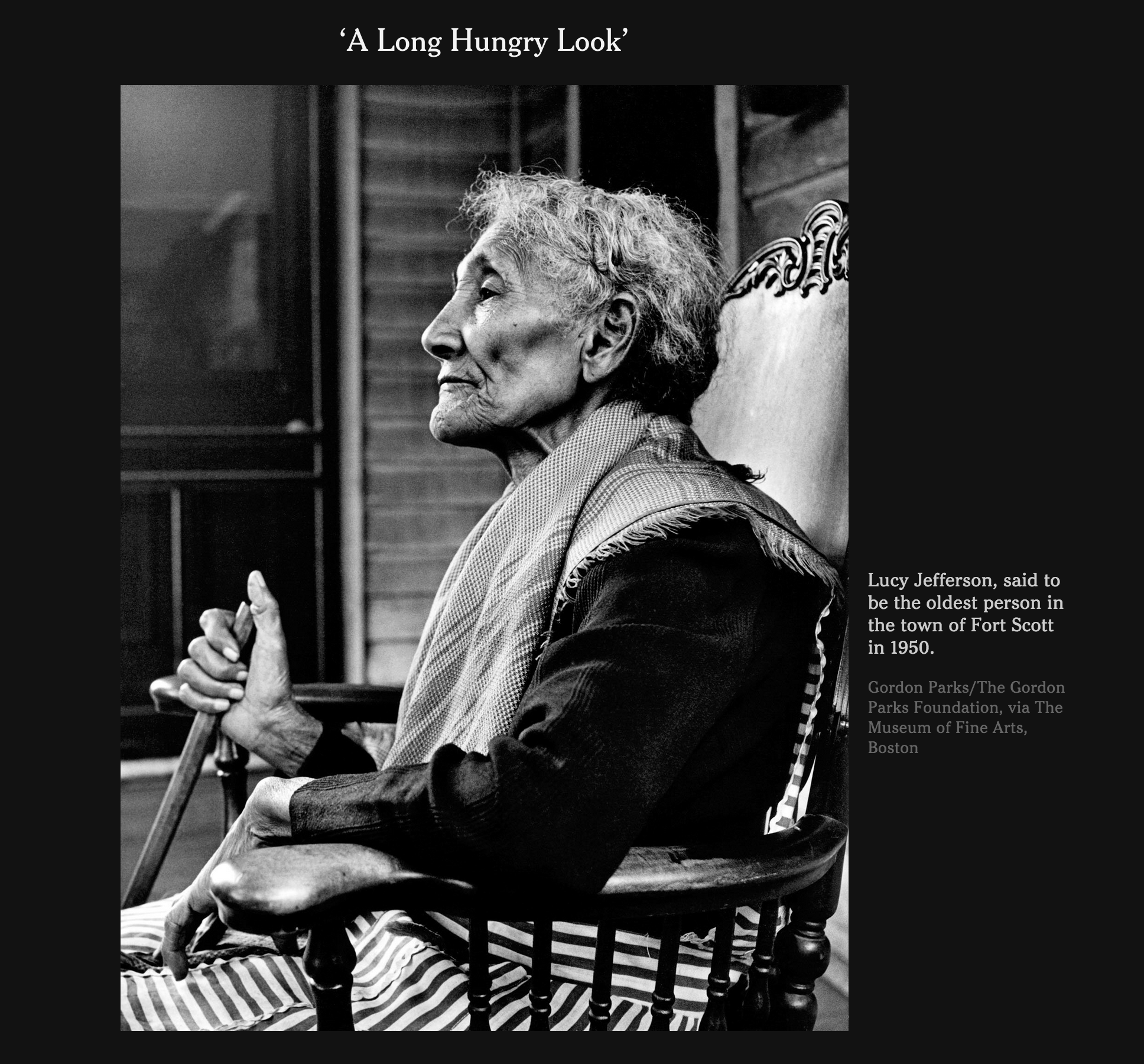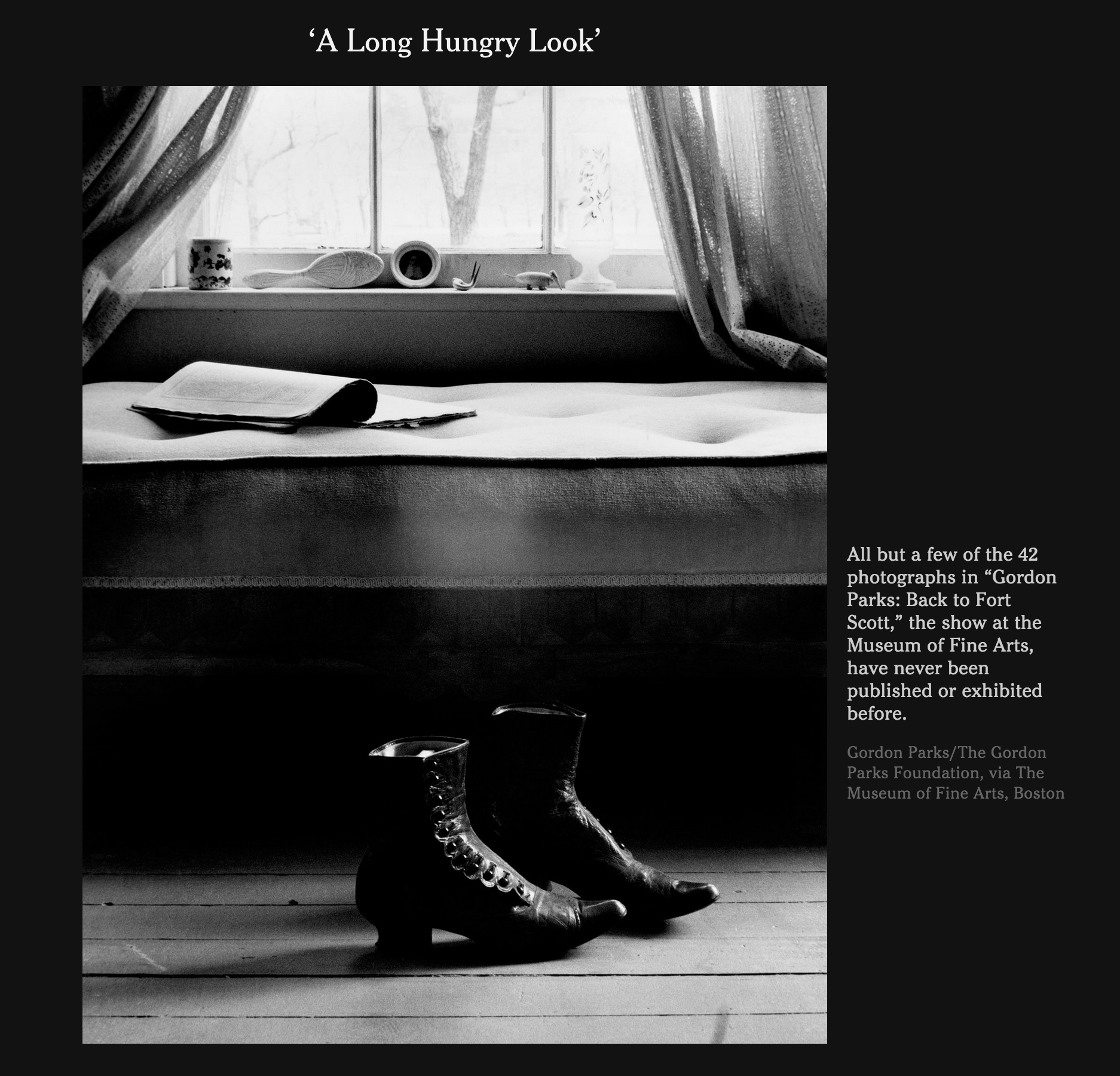 This trip was profound for me on many levels. Gordon Parks is someone I first encountered back when I was a student. I recall a teacher sharing his photo American Gothic and introducing us to him as a pivotal, contemporary figure we could consider researching more about. To see his work first hand, as someone who strives to capture moments through photographs gave me a better sense of Mr. Parks saw his camera not only as a tool, but ultimately as a weapon for change. This resonated with me as Head of Walnut Hill School for the Arts because I see artists as the greatest hope we have for making the world a better place. My Walnuts left inspired, and for our first trip sponsored by the Photography Club, we picked a great place to set the bar high.

In the same interview from 1982, Mr. Parks shared "I don't have time to just make pretty pictures. I would like to think that I touched people, touched lives. And that I helped lives would be the ones I would want to be most remembered by." You have Mr. Parks, and you did.